You have found a Job Posting and are updating your resume! Ask Yourself:
Does your resume show the effects you had in your workplace?

Did you save the company time or money?

How did you make a difference?

What did you do and how often?
There are many ways to answer these question but using Key Performance Indicators orKPI's is considered the best practice, let's look at some examples.
Compare Job Responsibilities To Job Metrics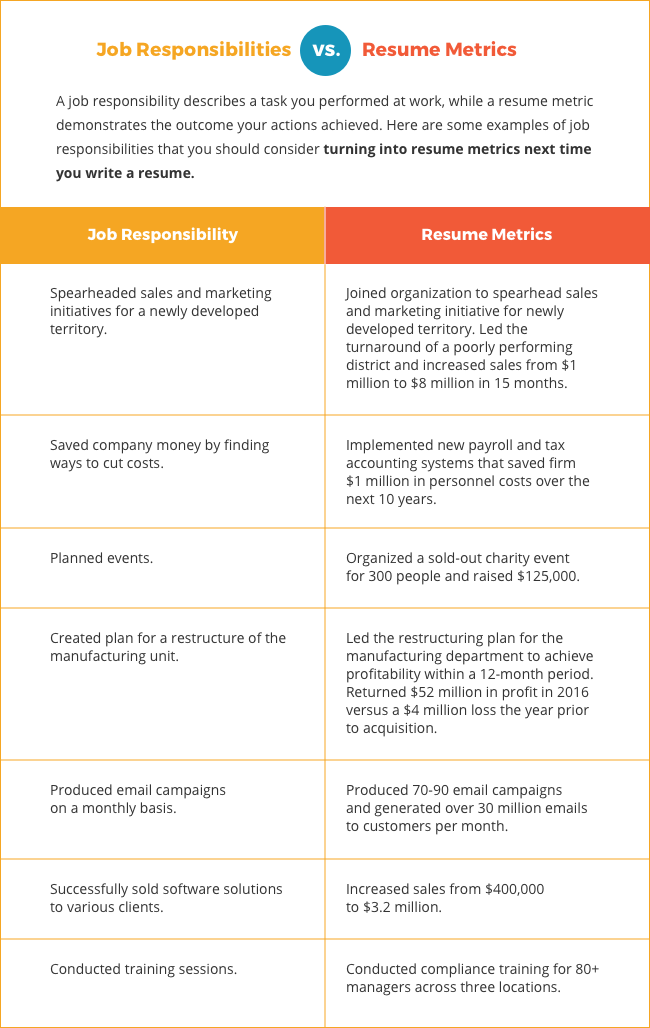 What Are Useful Resume Metrics?
It is easy to assume any numbers are good on your resume but you want to keep it relevant to the new job and impressive for recruiters:

Growth. What did you add to the company?

What were your goals, and how did you meet or exceed them?

What are the numbers that mattered the most? Revenue? Profitability? Margin? Retention rate?

Reduction . Where and how did you save money, time, or other resources?

Can you provide a concrete example of how you helped your company reduce waste, eliminate redundancy, or save money?

Impact. How did your work help?

What was the payoff for your efforts?

Did you help people? If so, how many?

Did you increase sales in your department?

Frequency. How often did each bullet point happen? For example, did you write and publish 12 blog posts per month? Or, did you consistently beat your quarterly revenue goals? Do you increase your retention rates year-over-year?
Demonstrate Growth From Your Work!
Growth KPI's
Website visits

Revenue

Deals closed

Partnerships secured

Candidates hired

New technologies/processes adopted
Examples
Authored 150 articles over the course of one year, driving 500,000 unique website visits

Vetted and reached out to roughly 30 prospects per day, resulting in 20 closed deals in Q1 and $120,000 in revenue (+22% to quota)

Optimized 15 landing pages during the course of the internship, resulting in 17% lift in organic search traffic
Measure Resources Saved From You Creative Thinking
Reduced
Time

Budget

Client turnover

Employee turnover

Website bounce rate
Examples:
Identified three major bottlenecks in the hiring process and spearheaded task force to implement new technologies and strategies to overcome them, resulting in 31% faster time-to-hire

Led website architecture redesign, leading to a two-second faster load time and 16.5% decrease in bounce rate

Conducted internal budget audit and discovered five key areas of redundant spending, saving $23,000 per year
Show The Value You Added To The Company
Impact
Number of team members you've led

Number of users or customers your work impacted

Number of stakeholders involved in a project

Number of clients you managed

Number of employees you supported (for a function like IT or HR)
Examples:
Coached, mentored and led a team of seven direct reports on the factory floor to ensure top-notch quality of products used by millions of consumers

Conceptualized and executed a multi-touch blog, social and email marketing campaign that reached 200,000 unique impressions

Oversaw both day-to-day and strategic HR operations for a company of 75 people
Writing in a quantitative (measurable) way takes time and practice but after you master this skill, people will always know the impact you have on any system.
This Byte uses content from Glassdoor and LiveCareer if interested in looking at the source material.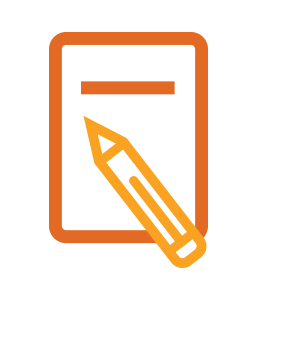 Your feedback matters to us.
This Byte helped me better understand the topic.
Get support to take action on this Byte