With features released monthly, there's always something new to learn about Discord! Revisit your settings regularly to ensure you get the most out of the platform.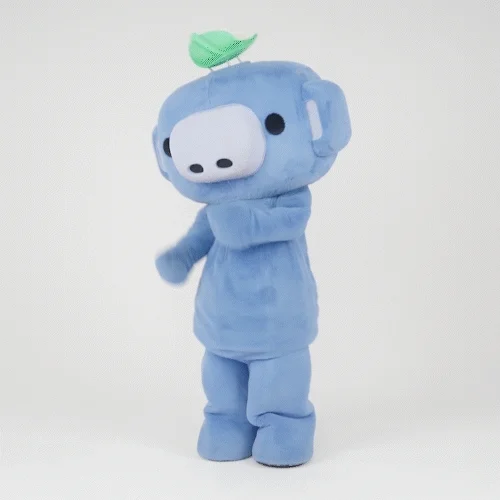 Need to brush up on Discord basics first? There's a Byte for that!
Many public servers have features to help keep you safe, such as auto-moderators that scan for explicit content, but you can also tighten up security for your account.
For example, you might not wish to allow direct messages (DMs) from strangers when joining public servers and can toggle this setting! ⤵
On desktop: ⚙ icon (bottom left) > Privacy & Safety
On mobile: User avatar (bottom right) > Privacy & Safety
Want more safety tips? Check out this Discord blog post!
Customize your server roles
Roles appear on your server profile like little badges. They may be for:
Aesthetic purposes (for example, to change the colour of your username)

Allowing you access to channels

Allowing you to receive notifications on specific topics (for example, an announcements channel or an upcoming event).
See an example of what your profile may look like after picking up some roles in the Rumie server here: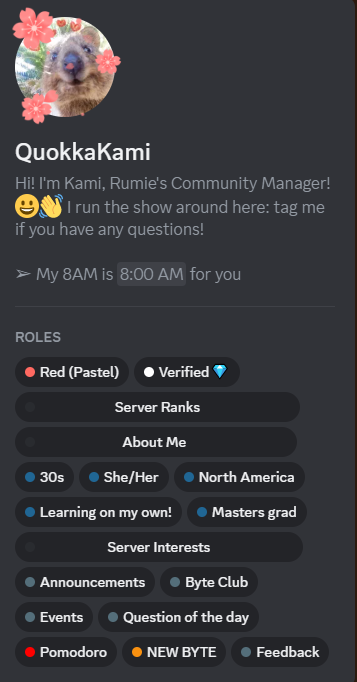 You might collect roles at the top of the server's channel list in "Channels and Roles" ⤵
Other servers may provide a designated #roles channel or series of channels.
Need a refresh on Discord vocab? Check out this intro first.
Customize your channel list
Also in the Channels and Roles tab (if available) you may individually check and un-check channels that you wish to see in your channel list. ⤵
One workaround (if a server does not have this tab available) is to mute any channels you no longer wish to see, and hide them from your channel list:
Muting a channel ⤴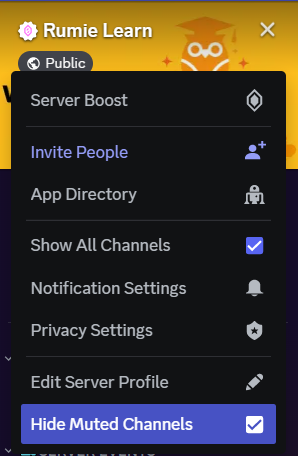 Hiding all muted channels ⤴
Customize your notifications
Notification settings can further refine which messages send you notifications and override roles and channels you see. Update to get notified:
For every single message sent in that channel

Only when someone specifically replies to or mentions you

Never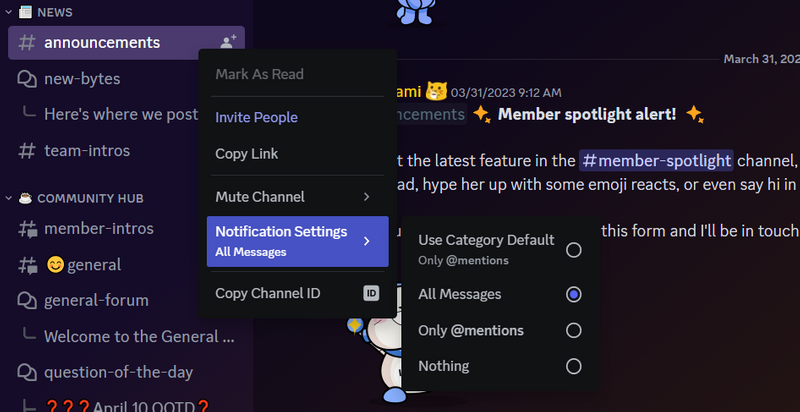 Did your message notification disappear and you forget where it came from? Not to worry! Your inbox will keep track for you.
On a desktop, click the inbox icon 📥 in the top right corner to access recent locations where you've been mentioned, unread messages, and events that are beginning (For You).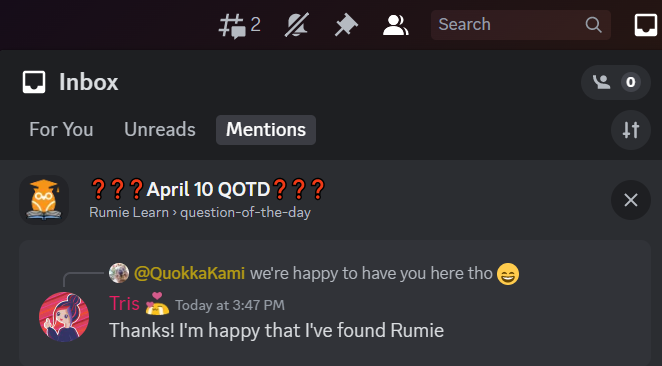 This feature is partially available on mobile (look for the 🔔 icon at the bottom of the screen) to access recent mentions and active events (For You).
Know where you want to go on Discord, but don't want to travel there? Use this keyboard command on desktop to teleport with the Quick Switcher:
A pop-up menu will display recent channels you visited, and allow you to search for any channel in all of your servers and direct messages with friends.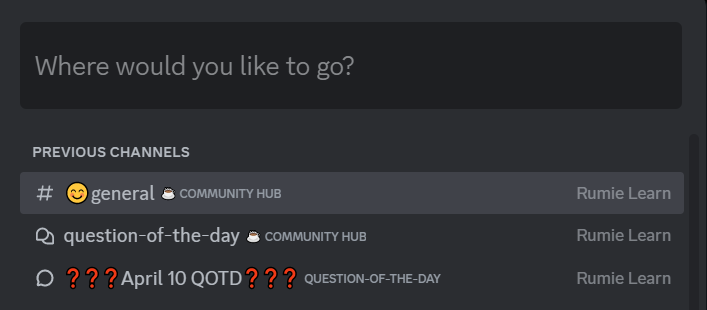 Supercharge your searches
Interested in a specific topic? Just search for it in the Discord search bar!
Want to get super specific? Use filter keywords!
Filter keywords could help you find:
A file that a specific member sent once in a certain channel

A message you sent at some point before a specific date that included an image
For example, searching
from: QuokkaKami#9282 during: 2021-09-24 in: general
will find all messages sent by QuokkaKami#9282 on September 24, 2021 in the general channel.
See this search in action: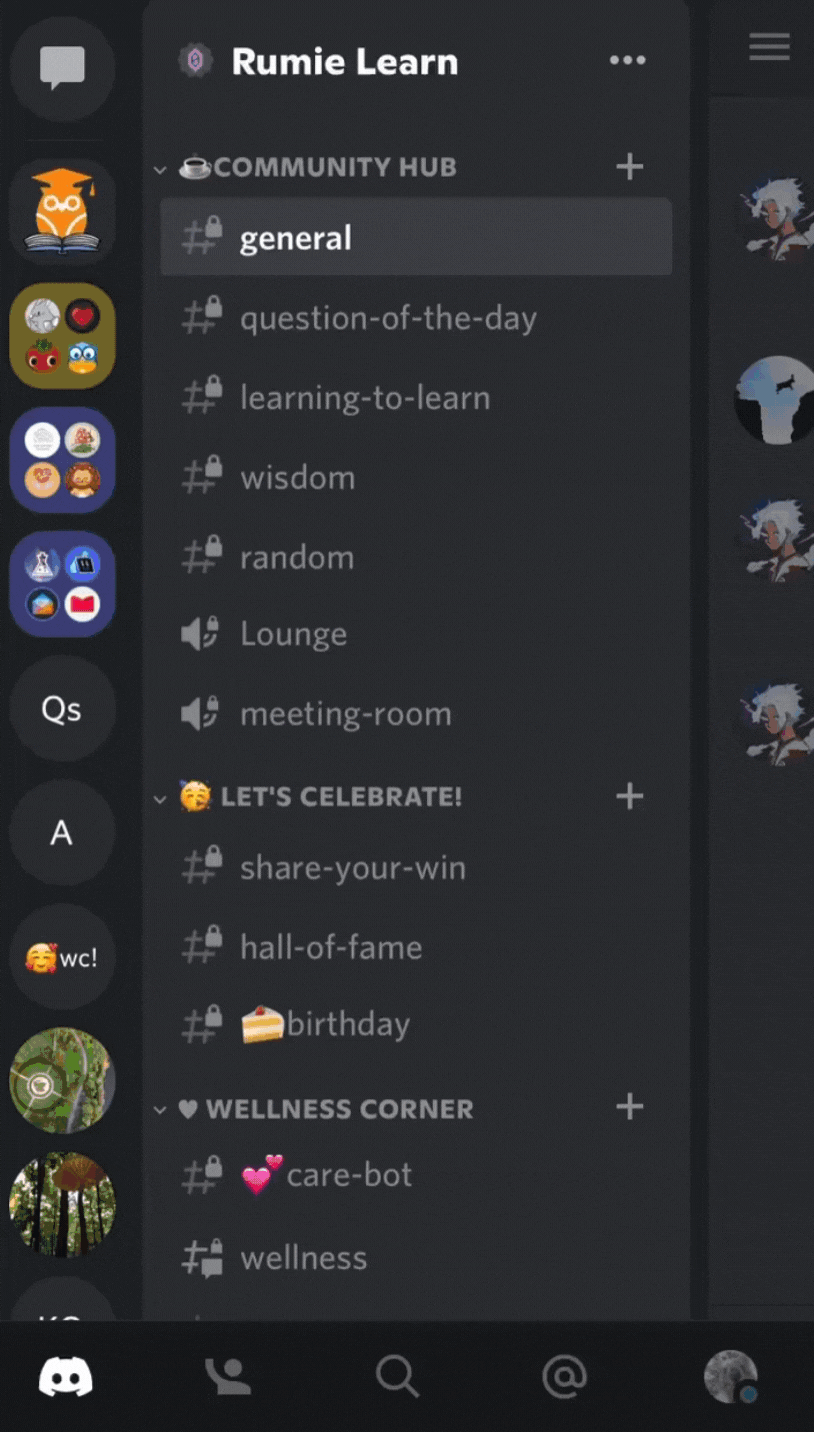 Go forth and customize: your Discord experience will only get better from here!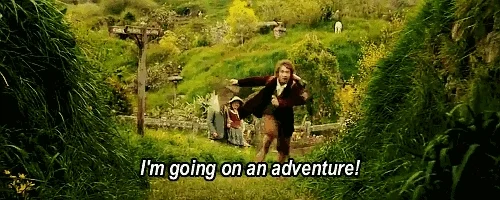 Your feedback matters to us.
This Byte helped me better understand the topic.
Get support to take action on this Byte