When sending an email, keep in mind the recipient.
Who will read this email? Customer, coworker, stranger, etc.
Why are you sending this email? To share information? Or is an action needed?
Do you need an urgent response? If yes, be clear.
Does the email seem like spam? Sales emails, unknown senders, not personal, etc.
Quiz
Select the best subjectline below:
Response Needed by 4 pm - Sales Project Approval
Sender: Accountant
Why is it effective?
Highlights action needed from the recipient

References the related project

Includes a sense of urgency
Job Application Subject Line
Account Coordinator - Nike - Ref # 34573 - Fatima Knight
Sender: Job Applicant
Why is it effective?
It's clear and to the point

Makes it easy for your employer to identify you

Includes requested information
Uh-oh,

🙃

your prescription is expiring
Sender: Warby Parker
This email was sent two weeks before a client needed to renew a prescription and when their eye prescription is expiring.
Why is it effective?
By sending an email at the right time, Warby Parker increased its chances of this email getting opened because it is relevant to the recipient.

It has the right tone to relate to recipients.
Quiz
What is the tone of this subject line?
Following up:
Following up from the Space Expo

As Promised: Charity Sponsorship Information

Follow Up Re: Your Marketing Plan

Here's the budget template we discussed

Great to meet you at Speed Networking last night!

Free Coffee for Marketing Advice?

Touching base re: Gutter Cleaning Estimate
Thank You:
Thank you for your review!

Thanks for attending Night at the Zoo

We appreciate your support!

Special thanks from our CEO

Jodi, thank you for your donation!

Great to see you yesterday!

Thanks for coming out!

Thanks! (Special treat inside 😀)
Event Reminder:
Reminder: Mingle for a Mission

Workshop Reminder: How to Build a Resume

Don't Forget to Use Your Coupon

Your Gift Card is Expiring!

Event Tomorrow | Register today!

Can't Wait for Tomorrow! (Have You Registered?)
Review Request:
Satisfied with Smile Dental? Review us on Yelp!

How was your service at ZenSpa?

Thanks for visiting! Here's a link to submit your review

Please share your experience with us

Let's be friends — Like and Review us on Facebook!

How did we do? Help us help you.
It is very easy for your emails to be ignored, skimmed, lost, or accidentally deleted. Effective subject lines can make a difference, remember to: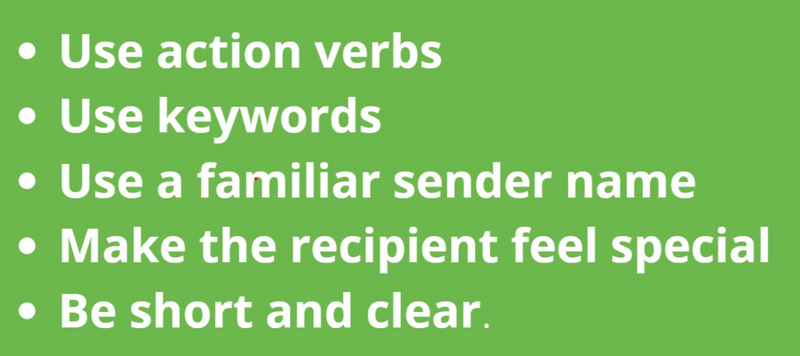 Your feedback matters to us.
This Byte helped me better understand the topic.
Get support to take action on this Byte