Customer Obsession is a healthy, long-term business strategy. It's more than just focusing on customers. It's a step by step approach and businesses of any size can adopt it.
Customer obsession is critical to how we operate in every job and at every level. Whether our customer is internal or external, the key to continued success as a company is to continuously deliver solutions that meet the needs that customers don't even know they have yet.
Customer Focused organizations listen to what their customers say, and stop there. They may run focus groups or ask for feedback.
Customer Obsessed organizations use data to respond to customer needs. Using consumer science, they A-B test different options, and choose the one that has the best outcome for their customer.
Quiz
How does data help you be more customer obsessed?
Meeting Needs Vs. Anticipating Needs
Customer Focused organizations, once they have heard their customers, deliver on their requests.
Customer-Obsessed organizations use data to invent new services and products to meet needs the customer is not yet aware off, solving the problem before it becomes apparent.
Competitor Focus Vs. Blazing New Trails
Customer Focused organizations try to be better than their competitors in tactical ways like price or product experience.
Customer Obsessed organizations ignore their competitors and focus solely on delivering a complete experience - from selection, to experience, to price - with the goal of constant improvement for the customer.
Customer Focused organizations try to build a better business through marginal changes and small adjustments, while balancing customer's needs.
Customer Obsessed organizations focus first on delighting the customer, and then trust that growth will follow.
Customer Focus Vs Customer Obsession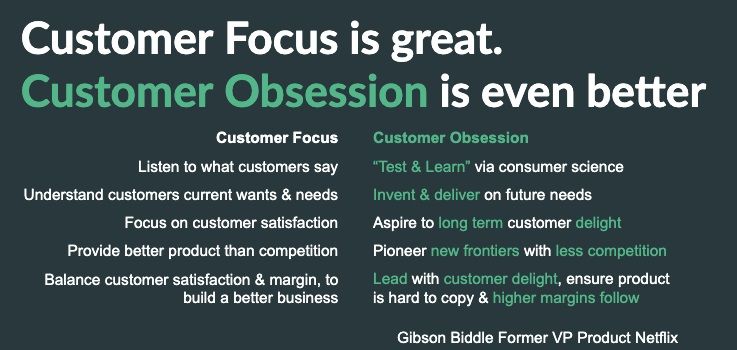 Quiz
How do customer obsessed organizations serve their customers?
Customer obsession is an ideology that influences everything a company does.
Try this!
Think about your customers and brainstorm what upsets or frustrates them.

Think about what the future will look like with these issues solved.
This will be the sweet spot for you and your organization to make a difference and become truly customer obsessed!
Your feedback matters to us.
This Byte helped me better understand the topic.
Get support to take action on this Byte